Blue Fisherman
I've finally started a major blue project. It's a Dutch Fisherman's sweater from
this book
, in KnitPicks'
Wool of the Andes in Sapphire Heather.
I can't get enough of this color! But so far the all-over knits and purls pattern is making the sweater crimp up and look like a very sillly lump. I'm assuming blocking (and wearing - it's meant to be fairly close-fitting-ish on my husband) will solve this. Plowing ahead.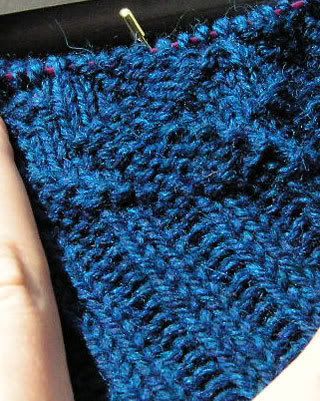 Here's a tiny part stretched out so you can almost see that there's a zig-zag pattern developing there.
You know, I'm so happy that more and more
scandals
are coming to light everyday, and that more people are paying attention to them than they used to, and that Bush's approval ratings are so low....but, well, part of me thinks it's just a bandwagon thing because he's safe to hate now that he's a lame-duck, and more than anything else, I'm wondering
why they haven't been impeached and jailed yet??!!!!!!