Belatedness
Blogger finally let me switch over to the new version, which means that for the first time in a month or so, I'm able to post here again! Which is great, since - much to my surprise - I've been knitting a lot of blue things. Totally unconsciously - or maybe subconsciously? Anyway, I surprised myself. A parade of blue FOs is below, and details of each are (somewhere) on
my blog.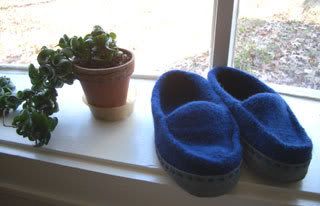 These are felted moccasins from the
Beverly Galeskas book
, in Paton's Classic Wool ("navy," I believe)
Believe it or not, these are another pair in the same pattern, in the same yarn - just a bad picture. They've since been finished off with brown suede slipper bottoms, and look very nice.
Fetching
! Had to join the bandwagon, after all. They were made from the leftovers of the same Paton's yarn I used for the slippers.
Melon stitch scarf from
Victorian Lace Today
, in a baby-blue/teal baby alpaca yarn.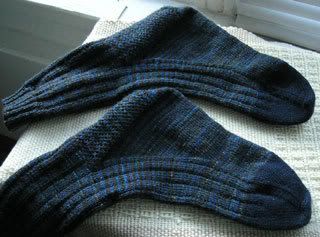 These are I call "peacock socks", out of Cherry Tree Hill sock yarn up until the toes, where I ran out of yarn because of the dense eye-of-partridge heel flaps and immense gussets for my husband's flat feet - so the toes were finished with Paton's Kroy in navy. They look very cute on him, actually.
Thanks, all, for this wonderful forum. I've noticed that my politics-induced stress level really has gone down (a bit) since I've had you all to turn to!
Labels: Blue FOs